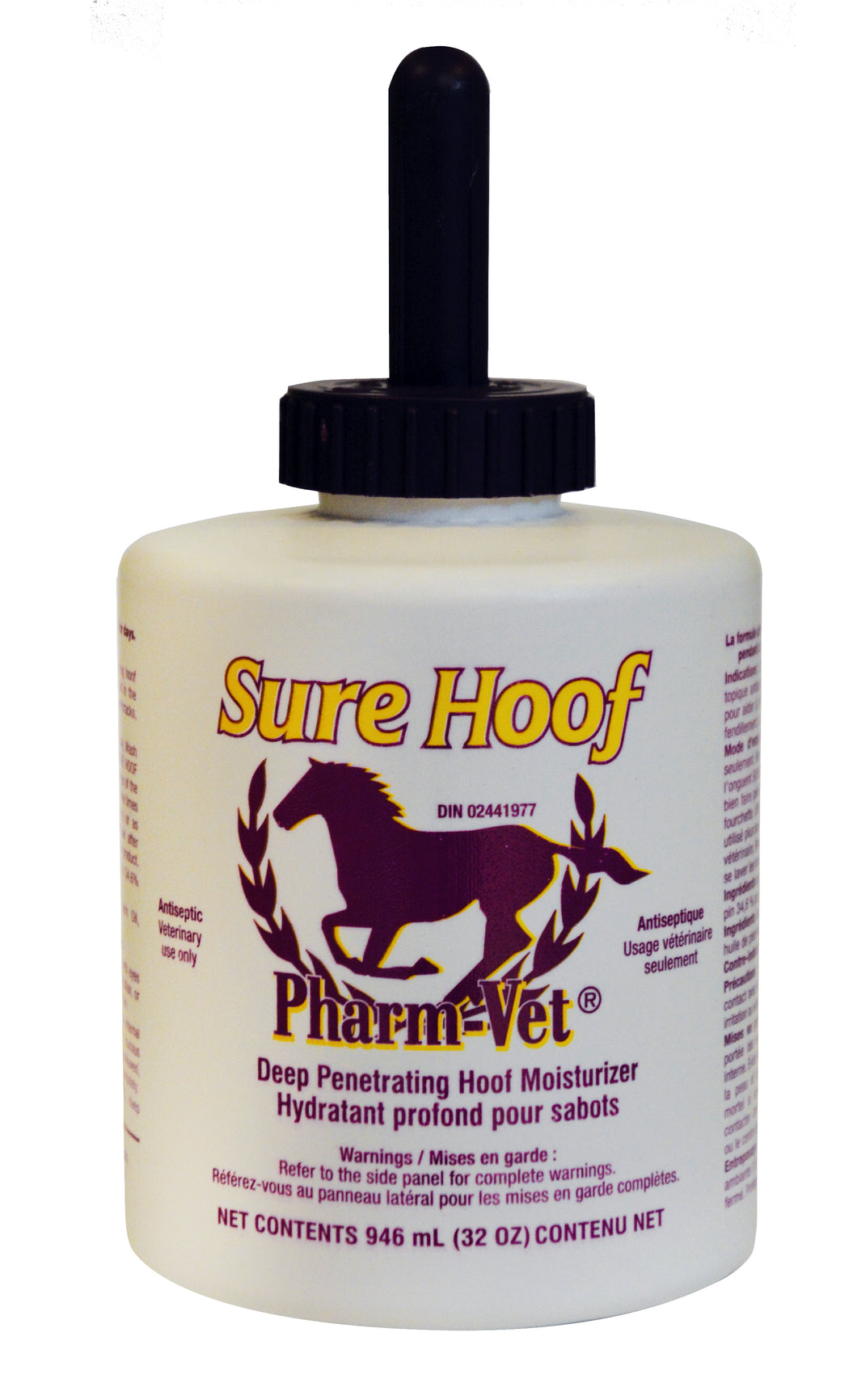 SURE HOOF 946ML Horse hoof dressing for hard, dry and brittle hooves.
Regular price $31.00 Sale
A topical hoof dressing for hard, dry and brittle hooves. Contains fish oil, pine tar, and other oils that penetrate deep into the hoof wall to help restore moisture and maintain pliability for stronger, more flexible hooves. Enhances colour, sheen and texture of hooves.
Sure Hoof (Canada)
This page contains information on Sure Hoof for
veterinary use
.
The information provided typically includes the following:
Sure Hoof Indications
Warnings and cautions for Sure Hoof
Direction and dosage information for Sure Hoof
Sure Hoof
This treatment applies to the following species:
Horses
Manufacturer: Pharm-Vet
Moisturizing Hoof Dressing
Antiseptic
DIN 02441977
Veterinary use only
Sure Hoof Indications
SURE HOOF is a topical moisturizing hoof dressing antiseptic for horse's hooves. As an aid in the treatment of dry, cracked hooves and prevention of cracks, maintain pliability of the hoof, etc.
Directions For Use
For topical use on horses only. Wash the horse's hoof thoroughly and dry. Apply SURE HOOF Dressing with a brush and work well into the edge of the hair at the coronary band and frog. Use two or three times weekly. May be used more often if necessary, or as recommended by a veterinarian. Close container after each use. Wash hands thoroughly after use of the product.
Contains:
Active Ingredients
Fish Oil 44.6% w/w, Pine Tar 34.6% w/w, Povidone Iodine 20.0% w/w.
Inactive Ingredients
Linseed Oil, Wheat Germ Oil, Neatsfoot Oil, Venice Turpentine.
Contraindications
Not for use on cats and dogs.
Cautions:
For external use only. Avoid contact with eyes and mucous membranes. In case of redness, irritation, or swelling, discontinue use and consult a veterinarian.
Warnings
Keep out of reach of children. Not for internal use. Avoid contact with eyes, skin and mucous membranes. Harmful or fatal if swallowed. If swallowed, contact a physician or Poison Control Centre immediately.
Storage
Store at room temperature (15-30°C). Keep container closed. Keep from freezing.
Pharm-Vet Ltd. - 1199 Sanford Street, Winnipeg, Manitoba R3E 3A1
Net 946ml (32oz), 3.8L (1Gal) - REV#5 - MAY 1/2015
NAC No.: 1458026.0
PHARM-VET LTD.
1199 SANFORD STREET, WINNIPEG, MB, R3E 3A1
| | | |
| --- | --- | --- |
| Telephone: |   | 204-589-7361 |
| |   | |
| Fax: |   | 204-943-9612 |
| Website: |   | www.petware.ca |
| | |
| --- | --- |
| | Every effort has been made to ensure the accuracy of the Sure Hoof information published above. However, it remains the responsibility of the readers to familiarize themselves with the product information contained on the Canadian product label or package insert. |