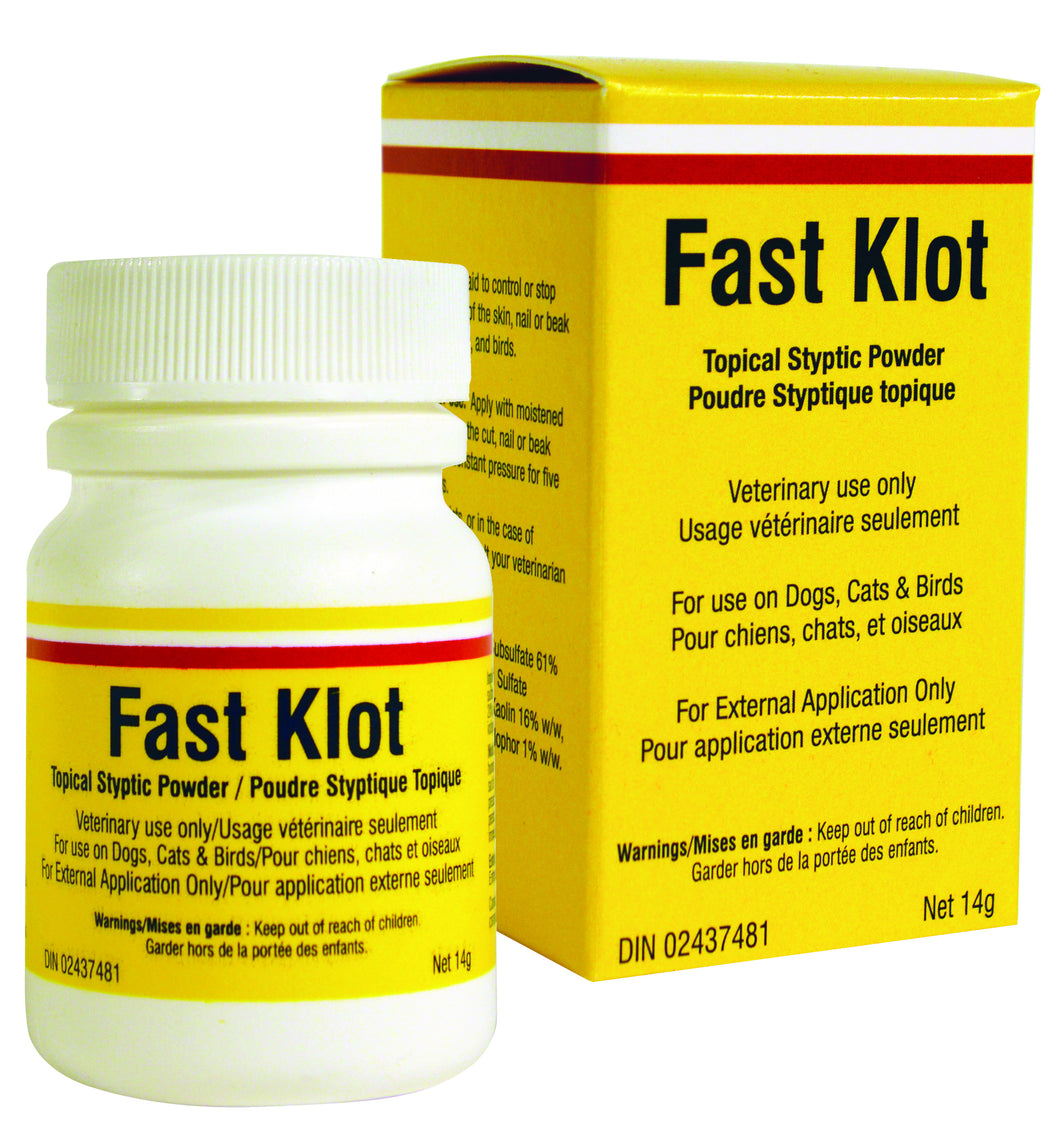 FAST KLOT 14G Stops superficial bleeding of the skin and nails for dogs, cats
Regular price $10.00 Sale
Fast Klot (Canada)
This page contains information on Fast Klot for veterinary use.
The information provided typically includes the following:
Fast Klot Indications

Warnings and cautions for Fast Klot

Direction and dosage information for Fast Klot
Fast Klot
This treatment applies to the following species:
Company: Dominion
Topical Styptic Powder
Veterinary use only
For use on Dogs, Cats & Birds
For External Application Only
Warnings
Keep out of reach of children.
DIN 02437481
Fast Klot Indications
As an aid to control or stop superficial bleeding of the skin, nail or beak for use on dogs, cats, and birds.
Directions For Use
Apply with moistened cotton applicator to the cut, nail or beak using moderate constant pressure for five to ten seconds.
If bleeding persists, or in the case of puncture wounds, consult your veterinarian immediately.
Active Ingredients
Iron Subsulfate 61% w/w, Aluminum Ammonium Sulfate Dodecahydrate 20% w/w, Kaolin 16% w/w, Copper Sulfate 2% w/w, Iodophor 1% w/w.
Cautions: Do not use in superficial or deep wounds, in body cavities or on burns. FOR EXTERNAL ANIMAL USE ONLY.
Storage
Keep container closed. Store at room temperature (15-30°C).
Dominion Veterinary Laboratories Ltd., 1199 Sanford Street, Winnipeg, Manitoba R3E 3A1
Net 14g
REV#3-JAN29/2015
DOMINION VETERINARY LABORATORIES LTD.
1199 SANFORD STREET, WINNIPEG, MB, R3E 3A1
| | | |
| --- | --- | --- |
| Telephone: |   | 204-589-7361 |
| |   | |
| Fax: |   | 204-943-9612 |
| Website: |   | www.petware.ca |
| | |
| --- | --- |
| | Every effort has been made to ensure the accuracy of the Dominion information published above. However, it remains the responsibility of the readers to familiarize themselves with the product information contained on the Canadian product label or package insert. |