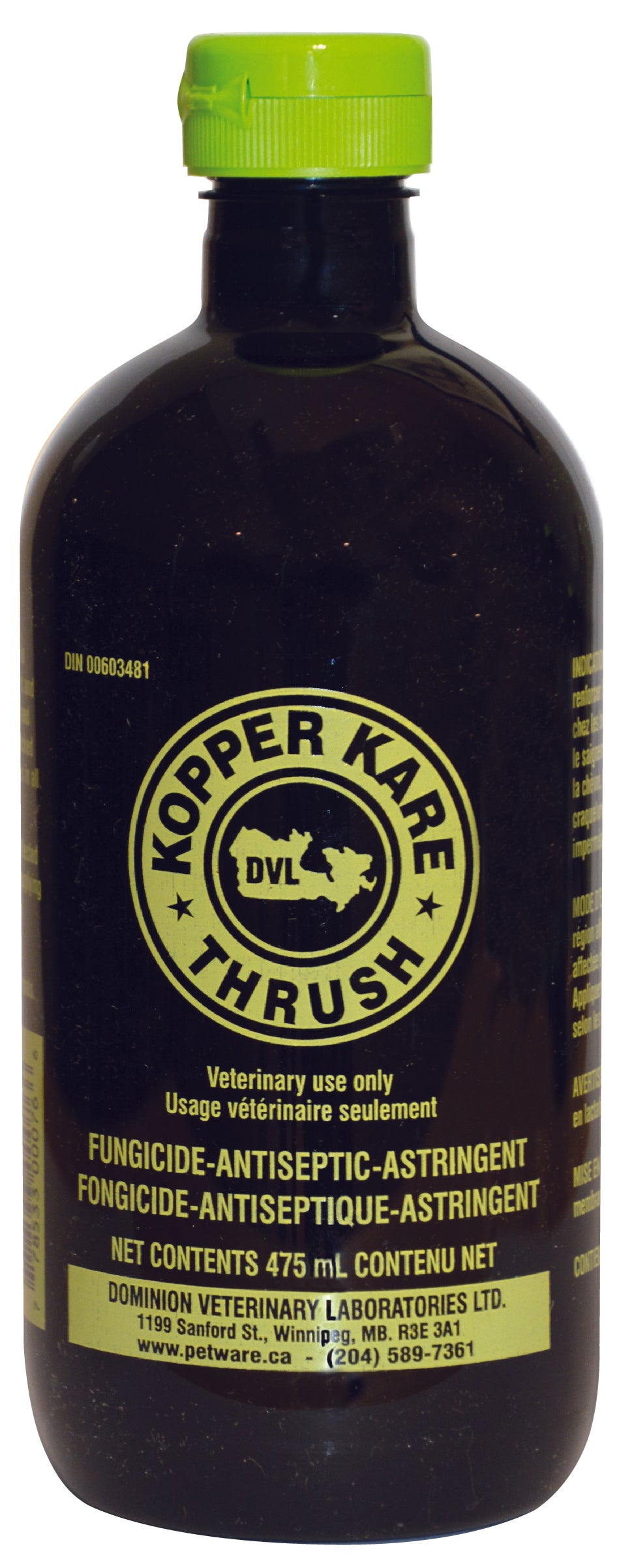 KOPPER KARE 475 ML Horse Supply Water-Resistant Protection without Bandaging
Regular price $23.00 Sale
KOPPER KARE 475ML Horse Supply Treatment of Thrush and toughen Hooves. Foot rot in cattle, sheep, goats and pigs. Hoof punctures, cracked hooves, and ringworm.
The effective treatment to thrush that kills bacteria, fungi and eliminates the foul odor associated with thrush infection. 
 The convenient squeeze applicator is specially designed to reach deep into the frog where thrush organisms breed.
BENEFITS OF HORSE THRUSH REMEDY:
Fungicidal and Bactericidal
Eliminates foul odor
Promotes healthy tissue growth
Sloughing agent to slough off dead tissue
Does not sting or stain
Does not dry out the hoof
Convenient squeeze bottle applicator
Can be applied with one hand
Does not contain formaldehyde
Kopper Kare (Canada)
This page contains information on Kopper Kare for
veterinary use
.
The information provided typically includes the following:
Kopper Kare Indications
Warnings and cautions for Kopper Kare
Direction and dosage information for Kopper Kare
Kopper Kare
This treatment applies to the following species:
Beef Cattle
Dairy Cattle
Dogs
Horses
Sheep
Veal
Manufacturer: Dominion
SOLUTION
FOR VETERINARY USE ONLY
FUNGICIDE-ANTISEPTIC-ASTRINGENT
DIN 00603481
Kopper Kare Indications
Kopper Kare is indicated for use in the treatment of foot rot on cattle and sheep; thrush, hoof punctures and cracked hooves in horses; ringworm; after dehorning; as a pad toughener in dogs; and also for spongy hooves. It is a fungicide-antiseptic-astringent liquid.
Directions For Use
Remove all dead tissue and cleanse the affected area. Then, use Kopper Kare by squeezing the bottle or applying with a brush or swab.
Kopper Kare Caution
Do not apply to the teats of lactating dairy animals. Not for use on cats or rabbits.
Warning
Avoid contact with eyes and mucous membranes. Keep out of the reach of children.
CONTAINS: Copper Naphthenate 37.5%.
NET CONTENTS: 475 mL
DOMINION VETERINARY LABORATORIES LTD., 1199 Sanford St., Winnipeg, Manitoba, Canada R3E 3A1
DOMINION VETERINARY LABORATORIES LTD.
1199 SANFORD STREET, WINNIPEG, MB, R3E 3A1
| | | |
| --- | --- | --- |
| Telephone: |   | 204-589-7361 |
| |   | |
| Fax: |   | 204-943-9612 |
| Website: |   | www.petware.ca |
| | |
| --- | --- |
| | Every effort has been made to ensure the accuracy of the Kopper Kare information published above. However, it remains the responsibility of the readers to familiarize themselves with the product information contained on the Canadian product label or package insert. |