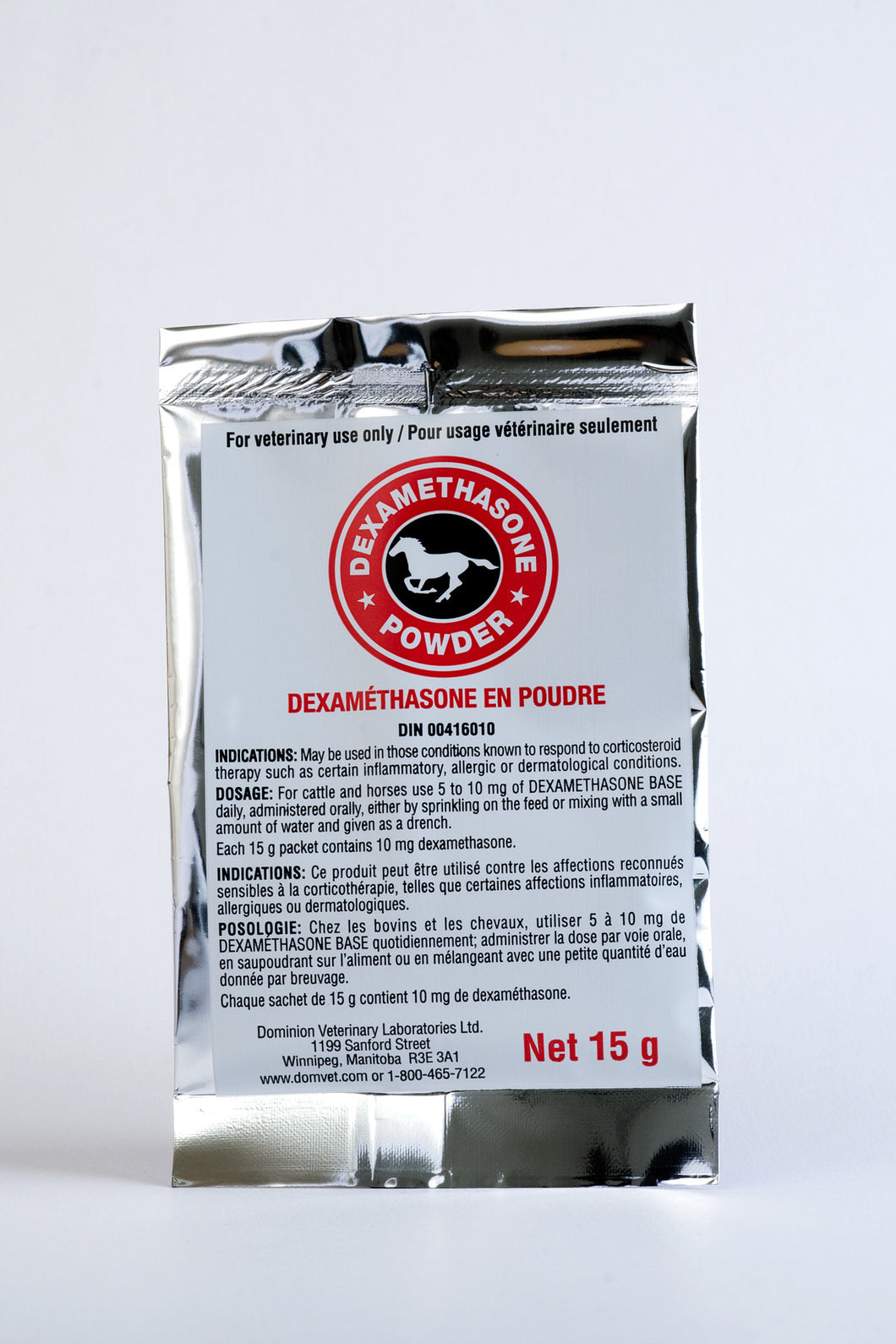 DEXAMETHASONE, 15G. Horse medicine powder anti-inflammatory 30/box. (30x15g).
Regular price $113.00 Sale
Horse Medicine Drug supply anti-inflammatory Dexamethasone therapy for inflammation, allergy, eczema or Dermatology states. Each 15 gram packet contains 10 mg dexamethasone USP.
Dexamethasone Powder (Canada)
This page contains information on Dexamethasone Powder for
veterinary use
.
The information provided typically includes the following:
Dexamethasone Powder Indications
Warnings and cautions for Dexamethasone Powder
Direction and dosage information for Dexamethasone Powder
Dexamethasone Powder
This treatment applies to the following species:
Beef Cattle
Dairy Cattle
Horses
Veal
Manufacturer: Dominion
DIN 00416010
For veterinary use only
Dexamethasone Powder Indications
May be used in those conditions known to respond to corticosteroid therapy such as certain inflammatory, allergic or dermatological conditions.
DOSAGE: For cattle and horses use 5 to 10 mg of DEXAMETHASONE BASE daily, administer orally, either by sprinkling on the feed or mixing with a small amount of water and given as a drench.
Each 15 g packet contains 10 mg dexamethasone.
Net 15 g
Dominion Veterinary Laboratories Ltd., 1199 Sanford Street, Winnipeg, Manitoba R3E 3A1
NAC No.: 11810181
DOMINION VETERINARY LABORATORIES LTD.
1199 SANFORD STREET, WINNIPEG, MB, R3E 3A1
| | | |
| --- | --- | --- |
| Telephone: |   | 204-589-7361 |
| |   | |
| Fax: |   | 204-943-9612 |
| Website: |   | www.petware.ca |
| | |
| --- | --- |
| | Every effort has been made to ensure the accuracy of the Dexamethasone Powder information published above. However, it remains the responsibility of the readers to familiarize themselves with the product information contained on the Canadian product label or package insert. |