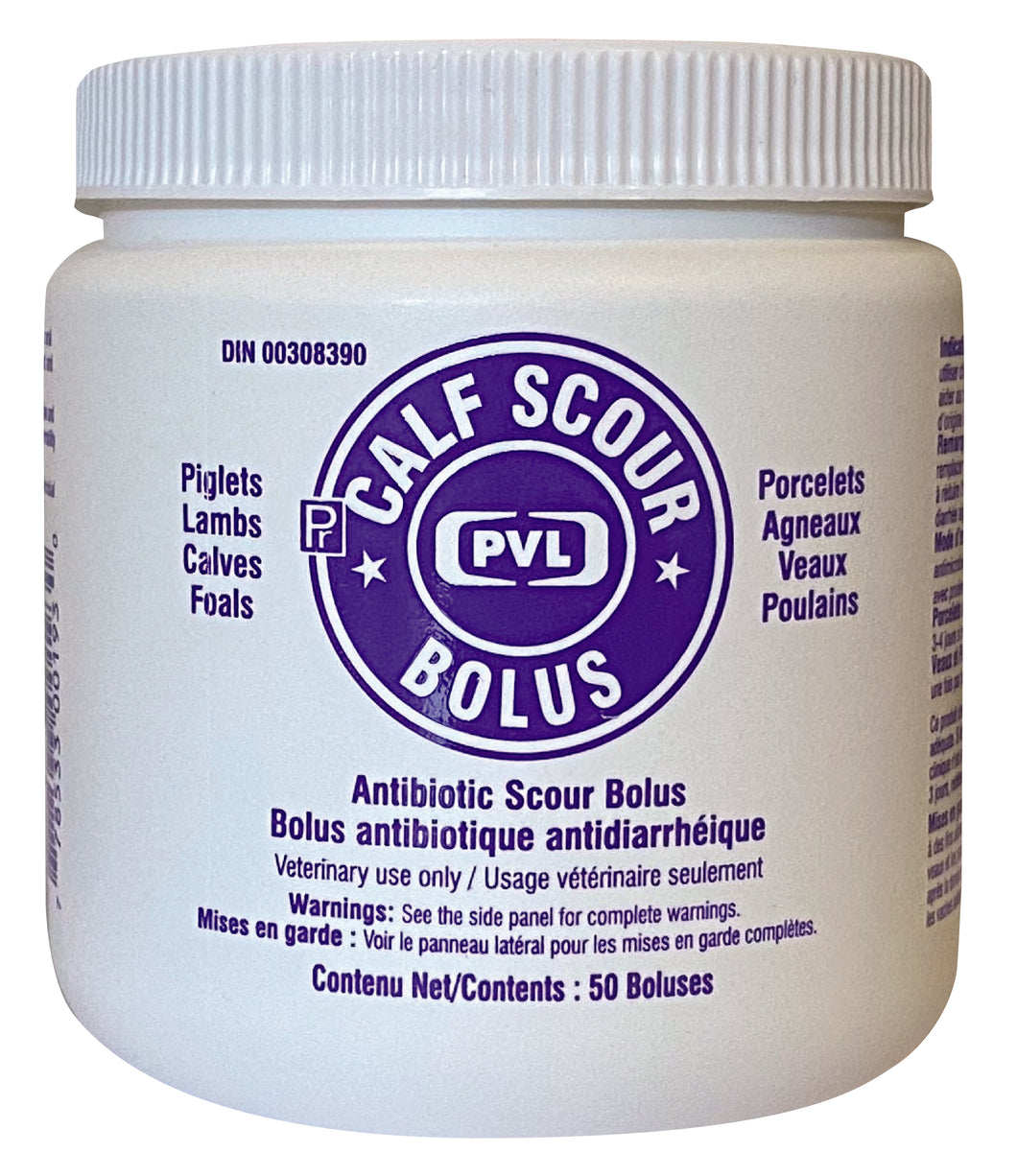 CALF SCOUR BOLUSES, 50's. Cattle supply treatment of bacterial diarrhea and enteritis.
Regular price $71.00 Sale
THIS ITEM CAN ONLY BE SOLD BY PRESCRIPTION
Calf Scour Bolus (Canada)
This page contains information on Calf Scour Bolus for veterinary use.
The information provided typically includes the following:
Calf Scour Bolus Indications

Warnings and cautions for Calf Scour Bolus

Direction and dosage information for Calf Scour Bolus
Calf Scour Bolus
This treatment applies to the following species:
Company: P.V.L.
Antibiotic Scour Bolus
DIN 00308390
Veterinary use only
Active Ingredients
Each 5 g bolus contains:
| | |
| --- | --- |
| Sulfaguanidine | 1340 mg |
| Sulfathiazole | 668 mg |
| Kaolin | 975 mg |
| Pectin | 260 mg |
| Neomycin (as sulfate) | 350 mg |
| Tricalcium bis(phosphate) | 324 mg |
| Atropine Sulfate | 0.10 mg |
| Hyoscyamine Sulfate | 0.10 mg |
| Vitamin A | 50,000 IU |
Calf Scour Bolus Indications
Calf Scour Bolus is an antibacterial product for oral use in piglets, lambs, calves and foals, as an aid in the treatment and prevention of diarrhea (scours) and enteritis of bacterial origin.
Note: Vitamin A is included to supplement or replace loss. Atropine and hyoscyamine are added to aid in the reduction of intestinal hypermotility which often accompanies acute diarrhea.
Directions For Use
To reduce the development of antimicrobial resistance and maintain effectiveness, use this antibiotic prudently.
Pigs and Lambs: 1/4 bolus orally once daily for 3-4 days if necessary.
Calves and Colts: 1 bolus per 45 kg bodyweight orally once daily for 3-4 days if necessary.
This product should be administered under adequate and continuous supervision. If clinical signs persist and/or no clinical improvement is seen after using this product for 2 to 3 days, the diagnosis should be re-evaluated.
Warnings
Treated animals must not be slaughtered for use in food for at least 30 days for calves and foals, and 14 days for piglets and lambs after the latest treatment with this drug. Do not administer to lactating dairy cattle. Sulfonamides can cause allergic reactions in sensitized individuals. When handling the product, avoid inhalation, oral exposure and direct contact with skin or eyes. Keep out of reach of children.
Storage
Store at room temperature (15-30°C).
Professional Veterinary Laboratories, 1199 Sanford Street, Winnipeg, Manitoba R3E 3A1
Net Contents: 50 Boluses
CPN: 1203006.2
PROFESSIONAL VETERINARY LABORATORIES
1199 SANFORD STREET, WINNIPEG, MB, R3E 3A1
| | | |
| --- | --- | --- |
| Telephone: |   | 204-589-7361 |
| |   | |
| Fax: |   | 204-943-9612 |
| Website: |   | www.petware.ca |
| | |
| --- | --- |
| | Every effort has been made to ensure the accuracy of the information published above. However, it remains the responsibility of the readers to familiarize themselves with the product information contained on the Canadian product label or package insert. |